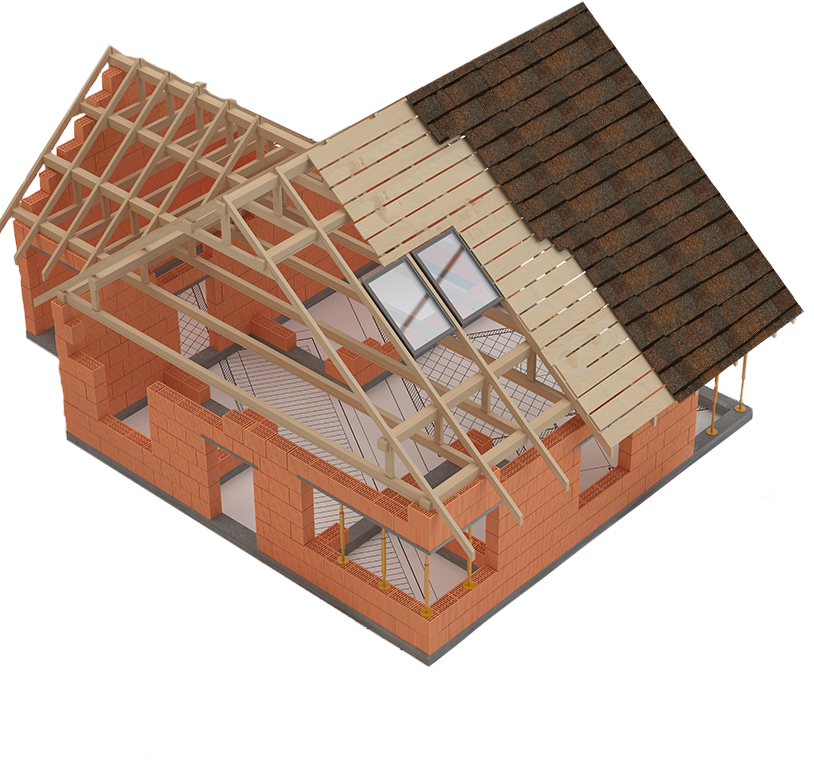 Why Choose
Rick Bangerter
Roofing in Utah?
After 3 generations of roofing in Utah, and being established for well over 40 years, we are Utah's top roofing experts. We will get you honest, fair pricing as soon as possible and get the job done right, in a timely fashion. Let us help you with your home improvements! We provide your every "shingle" need.
Roofing is What We Do Best
Roofing replacement requires an old or damaged roof and the materials to be removed and then replaced with a new one to guarantee the integrity and functionality of a residential or commercial building's roof system. Roofs deteriorate over time due to weather exposure, age, lack of inspection, and other factors that lead to leaks, water damage, and structural issues. It requires careful planning, professional expertise, and the proper materials to ensure a durable, functional, and aesthetically pleasing result. Roofing replacement is a significant home improvement project and an investment that will increase your home's value and curb appeal while providing protection and peace of mind for years to come. It also allows you to choose a color and shingles you'll love seeing on your Utah home.
Residential Roofing Contractor: Residential roofing is an important aspect of ensuring the safety and protection of your home from the state's harsh weather conditions. Utah experiences extreme temperature variations throughout the year, including hot summers and cold winters, heavy snowfall, rainstorms, and occasional hailstorms. Because of Utah's drastic conditions, it's beneficial for homeowners like you to invest in high-quality roofing materials and professional installation by insured roofing contractors who will ensure your roof can withstand any weather condition. As a Utah homeowner, you have several options when it comes to choosing roofing materials. Some popular options include asphalt shingles, metal roofing, tile roofing, and slate roofing. Each material has pros and cons, and the final decision depends on your preferences and budget, as well as the style and architecture of your home. Asphalt shingles are the most common residential roofing material used in Utah. They are affordable, easy to install, and come in a wide range of colors and styles.
Additionally, asphalt shingles are durable and can last up to twenty years with proper maintenance. However, they may not be the best option for homes in areas with heavy snowfall, such as Park City or Big Cottonwood Canyon, as they are more prone to damage from ice dams. Metal roofing is another popular choice, particularly for homes located in areas with frequent hailstorms. Metal roofs are highly durable, energy-efficient, and require minimal maintenance. They are also available in various styles and colors, making them a popular choice for homeowners looking to achieve a modern or contemporary appeal. Tile roofing is popular for homeowners looking for a long-lasting and aesthetically pleasing option. Tile roofs are available in clay, concrete, and slate materials. They can last up to fifty years in Utah with proper maintenance. However, tile roofs are more expensive than other roofing materials and require professional installation due to their weight. Slate roofing is a high-end option known for its durability and beauty. Slate roofs can last up to 100 years in Utah and are resistant to fire, wind, and hail. However, slate roofs are heavy and, like tile, require professional installation, which can be costly. Rick Bangerter Roofing is family owned and operated with more than forty years of experience in the Utah roofing industry. We'll be here to maintain your roof for decades to come. We provide free estimates so that you and your family can make an informed decision and choose the roofing you and your family will love for years to come.
Commercial Roofing Contractor: Rick Bangerter Roofing is a trusted name in the Utah commercial roofing industry. We have over forty years of experience and a team of skilled professionals. We specialize in providing reliable and efficient commercial Utah roofing solutions. Whether you need a new installation, repair, or maintenance for your Utah commercial property, we have the expertise to do the job right the first time. We use only high-quality materials and follow industry best practices to ensure that your commercial roof is built to last in Utah, protecting your investment and providing you with peace of mind. From flat roofs to sloped roofs, we have the knowledge and skills to handle various Utah commercial roofing systems. We work closely with several manufacturers, including CertainTeed, Tamko, and GAF but are not limited to these. We can get the material you prefer and the color you want for your Utah property. We provide prompt responses, unmatched attention to detail, high-quality work, competitive pricing, and commitment to customer satisfaction. Rick Bangerter Roofing is your go-to choice for all your Utah commercial roofing needs. Call or text us today at 801.544.0147
New Construction Roofing: With our roofing expertise in Utah, we are the go-to choice for builders and contractors looking for reliable and high-quality roofing contractors. At Rick Bangerter Roofing, we understand the unique requirements of new construction projects in Utah and work closely with builders to ensure that the roof is installed expertly. We offer a wide range of roofing options, including various materials, styles, and colors, to suit any project's architectural design and aesthetic preferences. Our skilled team of Utah roofers and state-of-the-art equipment ensures the roof is installed at the highest standards, adhering to local building codes and regulations. Our commitment to using top-quality materials, combined with our attention to detail and craftsmanship, results in durable and visually appealing roofs that enhance the overall appearance and value of the new construction project. Utah Real estate agents love us because they know the quality and look of our roofs help them sell houses fast. Choose Rick Bangerter Roofing for your new construction roofing needs in Utah and experience our excellence in quality and service. Please view some of our completed jobs to learn more.
Roofing remodels are a favorite Utah home improvement project that can enhance the beauty and value of your home. A well-designed and correctly installed roof protects your Utah home from harsh weather conditions. In addition, it also adds an attractive element to the overall exterior design. There are several reasons why you might want to consider a roofing remodel in Utah. One of the most common reasons is to replace an old, worn-out roof that is no longer effective at protecting your Utah home from the elements. Another reason might be to update your roof's design and improve the overall appearance of your Utah home. It's also common to remodel when planning to sell your home to increase value and curb appeal to potential buyers. When it comes to roofing materials, you have a variety of options to choose from. The most popular roofing materials include asphalt shingles, membrane roofing, wood shakes, metal roofing, and tile. Each material has advantages and disadvantages. When choosing a Utah roofer and roofing material, you should carefully consider your needs, budget, and preferences. In addition to the roofing material, you should also consider the style and color of the roof. The roof style can greatly impact your Utah home's overall appearance, and different styles may be better suited for different types of homes. Color is also important, as it can strongly influence your Utah home's curb appeal. Working with a reputable and experienced roofing contractor is important when planning a remodel. A professional contractor in Utah will help you choose the right roofing material and style for your home and budget. A contractor will also ensure the installation is done correctly and according to local building codes. Call or text us today at 801.544.0147 for a free estimate.
Roof repairs and biannual inspections are the most affordable and cost-effective home plan. Roof repairs in Utah prevent a damaged or leaking roof from causing significant impairment to the interior of your Utah home. Act quickly and work with an insured and reputable roofing contractor in Utah to ensure the repairs are done correctly and effectively. One of Utah's most common causes of roof damage is extreme weather conditions. Heavy snow, high winds, thunderstorms, rainstorms, sun, and hail can all take a toll on your roof, causing shingles to become dislodged or broken. Over time, the sun's UV rays deteriorate shingles, leading to leaks and other problems. In addition to weather-related damage, roof damage can be caused by age, poor installation, or lack of maintenance. Whatever the cause, it's important to address roof damage in Utah as soon as possible to prevent further damage and guarantee the safety and comfort of your family. We know your Utah home and family are very important, which is why we use high-quality materials, complete jobs quickly, and offer many affordable options.
Insurance Claims: Filing a roofing insurance claim is common in Utah, as homeowners often need to file a claim to cover the cost of repairing or replacing a damaged roof after a storm. When filing a Utah roofing insurance claim, it's important to understand the process and work with an experienced roofing contractor to ensure the claim is handled correctly. The first step in filing a Utah roofing insurance claim is to contact the insurance company and provide details about the damage to the roof. Next, the insurance company's adjuster will inspect the roof and assess the harm. The adjuster generally takes pictures and notates the extent of the damage, which will be used to determine the amount of the claim. Once the claim has been approved, you–the homeowner–can begin working with a roofing contractor to schedule the roof repairs or replacement. Be sure to choose an insured, reputable, and experienced Utah contractor familiar with the insurance claims process. The contractor will provide you with a detailed estimate for the work. Rick Bangerter Roofing works with your insurance company to guarantee that the repairs or replacements are done according to the terms of your insurance policy so that you don't have to worry about paying for unapproved materials. We also work with you to choose materials and design elements that meet your needs and preferences as a Utah homeowner.
Rooftop snow removal is an important task for homeowners and businesses in Utah during the winter months. Heavy snowfall can cause serious harm to your roof, which can lead to leaks, structural damage, and even roof collapse. Removing snow from the roof will help prevent these issues and guarantee safety and comfort for you and your loved ones. When removing rooftop snow, be sure and follow Utah roofing best practices and work with a professional Utah snow removal company to ensure that the job is done well and effectively. Here are some tips for rooftop snow removal in Utah: 1) Safety first, 2) Choose the right tools, 3) Start at the top, 4) Avoid damaging the roof, 5) Keep gutters clear, and 6) Consider hiring a professional. It's always wise to hire a Utah roofer to remove snow from rooftops because we know how to avoid damaging shingles and prevent ourselves from falling or sliding off the roof by following proper roofing techniques. Our experience provides us with the knowledge to take extra precautions with our equipment and bodies. Although falling off a roof might be comical in movies, it's never fun in reality and can even be life-threatening. So prioritize your safety and call or text us today at 801.544.0147.
Wind and hail damage are two of the most common types of damage that can affect roofs–especially in Utah, where the weather changes often throughout the year. Both can cause significant harm that may require roof repairs or replacement. High winds, such as those associated with severe weather events like thunderstorms, can cause shingles and other roofing material to lift or become dislodged, leaving your Utah roof vulnerable to further damage. When strong winds cause trees and other objects to fall onto your Utah roof, they can cause serious structural damage to the roof and your entire home. Hail consists of solid ice that forms inside updrafts during thunderstorms. Hail damage occurs when hailstones strike the roof, varying from small pea-sized pellets to spheres larger than golf balls. Hailstorms can cause dents, cracks, and breaks in shingles and other roofing materials, leading to leaks and other problems that can cause damage to the inside of your Utah home. Both wind and hail damage can be difficult to detect, and it is vital to conduct a roof inspection after a severe weather event to assess any potential damage. Failure to address wind or hail damage can lead to more significant problems, such as water damage and mold growth inside your home, which can be dangerous to your health. We recommend hiring a professional Utah roofer to inspect your roof every spring and fall to prevent unnecessary and potentially harmful hazards.